Garden Centre
OUR GARDEN CENTRE – MELLIFONT ABBEY GARDENS
Mellifont Abbey Gardens, developed over the years by the monks of Mellifont Abbey, supply a huge range of plants nationwide to hundreds of customers, private and corporate. Our customers include public parks and amenity areas; we also supply bedding plant plugs and seedlings for nurseries and garden centres, for both spring and autumn seasons. We have a generous supply of plants for window boxes, hanging baskets and patio planters.
Details of what is available can be found in our current catalogue, available through the garden centre website. If what you are looking for is not listed please contact us and we will endeavour to supply.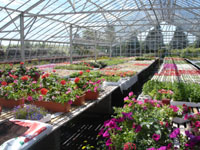 Mellifont Abbey Gardens,
Collon,
Co. Louth,
Ireland
Phone: (041) 9826216
Fax: (041) 9826546
Email: mellifontgardens@eircom.net
Click to go to Garden website