Guest House
MELLIFONT ABBEY GUEST HOUSE
From earliest times monasteries have practiced hospitality. St.Benedict makes it clear that all guests who come to the monastery "are to be welcomed as Christ, for he himself will say: "I was a stranger and you welcomed me" (Mt 25:35). Great reverence and respect are to be shown to all, especially poor people and pilgrims, because in them more particularly Christ is received.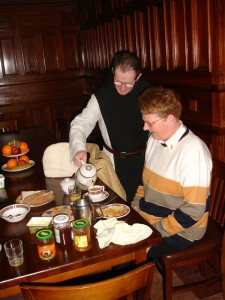 The monastic guest house at Mellifont is a place of prayer and retreat. The quiet, peaceful surroundings of the monastery with its fields and forests are ideal for calming troubled minds and spirits.
People come to stay at the monastery guest house throughout the year – some come to make private retreat or have a time of prayer, others just to 'get away from it all'; some come to "test the waters" a little because they sense that God may be calling them to something more; others for reasons that they can't quite articulate. All are welcome.
If you are interested in staying for a few days, please contact us to make a reservation:
Phone: 041-9826103
Email: mellifontabbey@eircom.net or use our Contact page.
Mailing address: Mellifont Abbey, Collon, Co. Louth, Ireland.